Per Don Schneider, Trail Manager: All Trails are brushed, fencing and signage is up and ready for inspection. No more trail work. We are ready for the snow. Thank you to all…
Read More >
All our trails including the Bearskin are brushed, mowed and signage has been completed. One more assignment for this coming weekend! Volunteers needed Friday, Nov 25th and Saturday, Nov 26th to…
Read More >
The Little Arbor Vitae Trail will be open this season!!!  Thanks to the following Volunteers… Glenn Speich, Greg Pauli, Jerry Wessner, Greg Dupuis, Jeanne Parrish and Deb Meyer!  You guys…
Read More >
Cross Country Cruisers Holiday Party at the Whitetail Inn on December 10th. RSVP with dinner selection to Jeanne Parrish at 608-723-9112 or email moc.liamgnull@95reddelsj       DEADLINE December 4th, 2022.
Dress like a Cruiser!!!!  Check out our new Clothing line.  Click on Apparel at the top of the Page.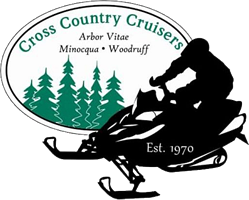 Little Arbor Vitae Trail Work.  We had both machines and volunteers helping to the get the Trail ready for this Season.
Thank you Volunteers... Putting the fencing at the NEW Airport Trail,